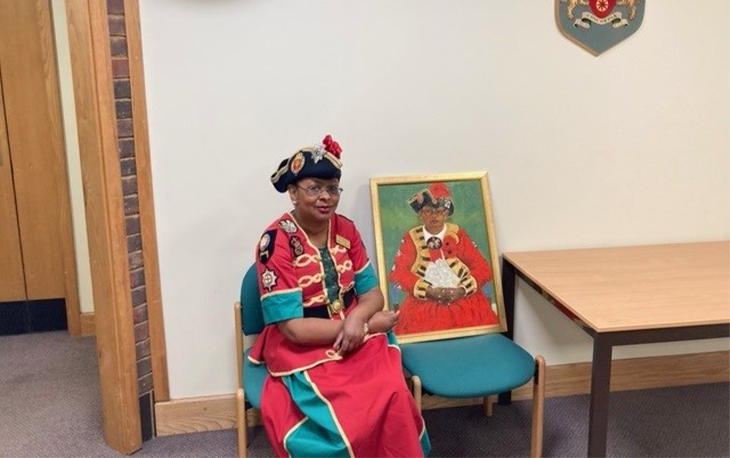 Funeral Partners administrator Sonia Hunt has been given a special award to recognise her community efforts during an incredible 20 years as Caterham's town crier.
Tandridge District Council celebrated Sonia ahead of a meeting in July where she was handed flowers and a portrait of her in her regalia and thanked for her sterling service.
Sonia said: "I'm very proud and I have loved my time doing it. I am passionate about history and it has been great to bring back some tradition to the role."
Sonia has learning disabilities and a number of physical ailments which she has battled since childhood, but never lets them stand in the way of fulfilling her town crier duties, nor the work she does as an administrator based at Pinks Funeral Directors.
She is the first black woman, and the first person with learning disabilities to be Caterham's town crier.
"When I was born, because of my health issues, they didn't think I would live very long," Sonia said.
"I haven't let those issues hold me back and I am happy with what I have achieved."
As town crier, Sonia opens community events like fetes, carnivals and festivals and was proud to spread the news of the coronation of King Charles early this year.
Her community work even led to her getting her role at Pinks, impressing Area Development Manager Karen Rattigan, who offered her work experience.
Sonia's attitude and aptitude led to her earning a part-time role where amongst other administrative duties, she creates community window displays and represents Pinks at community events.
Last year Sonia shadowed one of the Senior Funeral Directors before being able to conduct a funeral for herself – another milestone moment in Sonia's career at Funeral Partners and personal ambition met.
For now, she plans to continue to combine her commitments at Funeral Partners and her civic duties as long as she is physically able to.
"It's an honour I want to continue with as long as I can," she said.